EROS ∞ Medicine // New Year Ecstatic Tribe Retreat 2020
December 27, 2019

-

January 2, 2020

€848 – €1068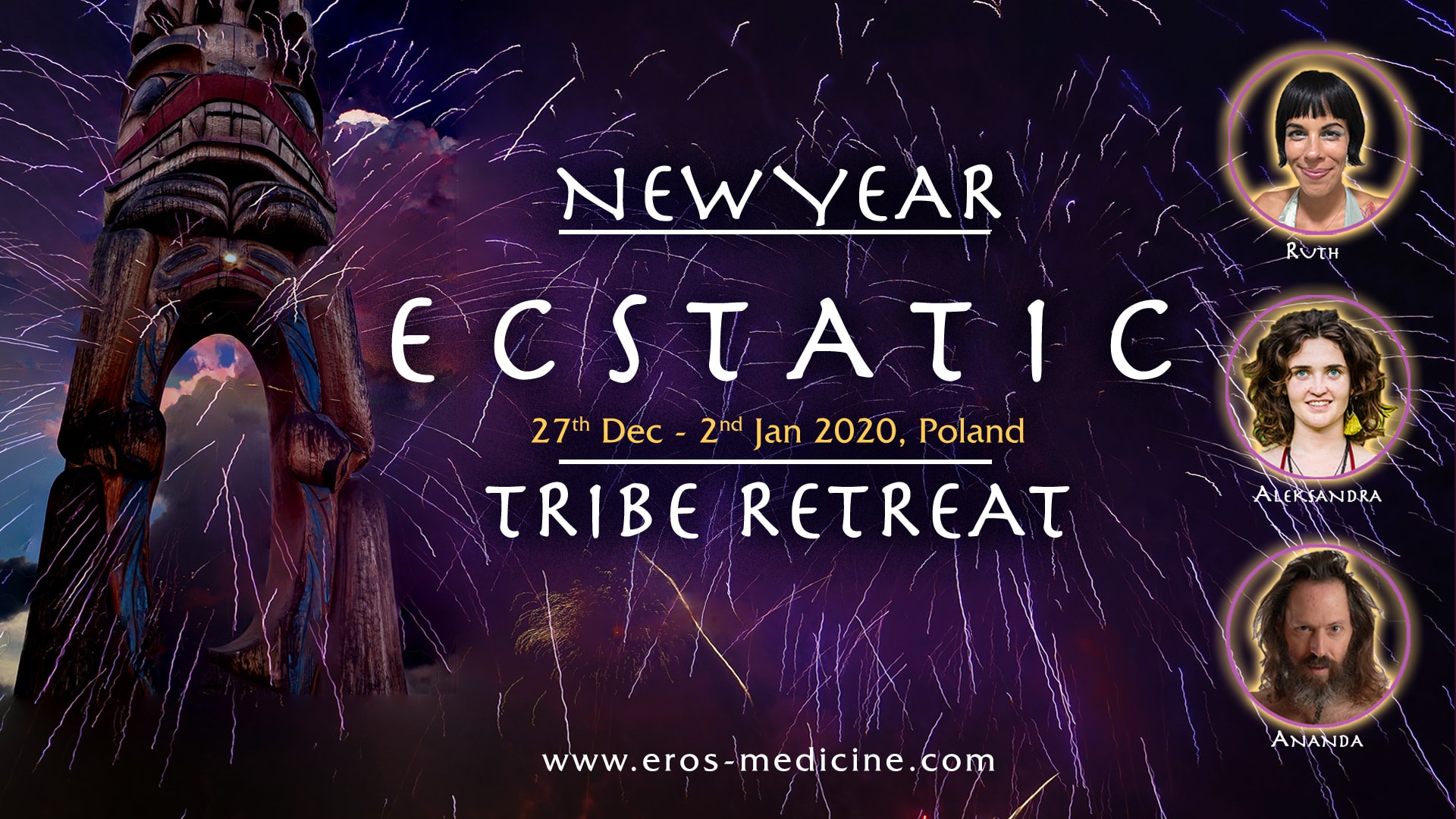 🎆🎇🎆🎇 𝗡𝗘𝗪 𝗬𝗘𝗔𝗥 𝗘𝗖𝗦𝗧𝗔𝗧𝗜𝗖 𝗧𝗥𝗜𝗕𝗘 𝗥𝗘𝗧𝗥𝗘𝗔𝗧 🎆🎇🎆🎇
𝗖ROSS THE 2020 PORTAL WITH YOUR ACTIVATED ECSTATIC SELF!
// by EROS ∞ Medicine & Divinity Relating
​
💫 Vibrating Love in harmony with community in a week-long
(6 nights) temple experience 💫
27th Dec 2019 – 2nd Jan 2020
in Polish mountains (3h from Berlin)
𝒀𝒐𝒖𝒓 𝒃𝒐𝒅𝒚 𝒉𝒂𝒔 𝒕𝒉𝒆 𝒄𝒂𝒑𝒂𝒄𝒊𝒕𝒚 𝒕𝒐 𝒗𝒊𝒃𝒓𝒂𝒕𝒆 𝒆𝒄𝒔𝒕𝒂𝒔𝒚.
.
𝑹𝒊𝒑𝒑𝒍𝒊𝒏𝒈 𝒘𝒂𝒗𝒆𝒔 𝒐𝒇 𝒆𝒍𝒆𝒄𝒕𝒓𝒊𝒄 𝒄𝒖𝒓𝒓𝒆𝒏𝒕 𝒓𝒐𝒍𝒍𝒊𝒏𝒈 𝒕𝒉𝒓𝒐𝒖𝒈𝒉 𝒂𝒔 𝒚𝒐𝒖 𝒖𝒏𝒅𝒖𝒍𝒂𝒕𝒆 𝒂𝒏𝒅 𝒈𝒓𝒐𝒂𝒏 𝒘𝒊𝒕𝒉 𝒑𝒍𝒆𝒂𝒔𝒖𝒓𝒆.
.
𝑶𝒑𝒆𝒏. 𝑺𝒖𝒓𝒓𝒆𝒏𝒅𝒆𝒓𝒆𝒅. 𝑬𝒓🌕𝒕𝒊𝒄 𝒂𝒏𝒅 𝒂𝒍𝒊𝒗𝒆.
.
𝑫𝒆𝒆𝒑𝒍𝒚 𝒄𝒐𝒏𝒏𝒆𝒄𝒕𝒆𝒅 𝒘𝒊𝒕𝒉 𝒔𝒆𝒍𝒇, 𝒕𝒉𝒆 𝑫𝒊𝒗𝒊𝒏𝒆.
.
𝑬𝒂𝒄𝒉 𝒆𝒙𝒑𝒓𝒆𝒔𝒔𝒊𝒐𝒏 𝒐𝒇 𝒚𝒐𝒖𝒓 𝒖𝒏𝒊𝒒𝒖𝒆 𝒃𝒆𝒊𝒏𝒈, 𝒂 𝒈𝒊𝒇𝒕 𝒕𝒐 𝒕𝒉𝒐𝒔𝒆 𝒂𝒓𝒐𝒖𝒏𝒅 𝒚𝒐𝒖.
.
𝑬𝒄𝒔𝒕𝒂𝒕𝒊𝒄 𝑻𝒓𝒊𝒃𝒂𝒍 𝒍𝒊𝒇𝒆 𝒄𝒂𝒍𝒍𝒊𝒏𝒈 𝒚𝒐𝒖𝒓 𝒔𝒐𝒖𝒍 𝒉𝒐𝒎𝒆 𝒊𝒏𝒕𝒐 𝒂𝒖𝒕𝒉𝒆𝒏𝒕𝒊𝒄 𝒂𝒄𝒕𝒊𝒗𝒆 𝒆𝒎𝒃𝒐𝒅𝒊𝒎𝒆𝒏𝒕.
.
𝑳𝒂𝒖𝒏𝒄𝒉𝒊𝒏𝒈 𝒚𝒐𝒖 𝒊𝒏𝒕𝒐 𝒕𝒉𝒆 𝑵𝒆𝒘 𝒀𝒆𝒂𝒓 𝒂 𝒔𝒕𝒓𝒐𝒏𝒈𝒆𝒓, 𝒎𝒐𝒓𝒆 𝒗𝒊𝒃𝒓𝒂𝒏𝒕 𝒃𝒆𝒊𝒏𝒈, 𝒂𝒏𝒄𝒉𝒐𝒓𝒆𝒅 𝒊𝒏 𝒚𝒐𝒖𝒓 𝒐𝒘𝒏 𝒆𝒓𝒐𝒕𝒊𝒄 𝒆𝒄𝒔𝒕𝒂𝒕𝒊𝒄 𝒇𝒍𝒐𝒘.
.
​
~♡~ PLEASURE ~♡~ SENSUALITY ~♡~ FLOW ~♡~ CELEBRATION ~♡~ WORSHIP ~♡~ HEART-GASMS ~♡~ HEALING ~♡~ PLAYFULNESS ~♡~ EMBODIMENT ~♡~ CONSCIOUSNESS ~♡~ MYSTERY ~♡~ INTIMACY ~♡~ TOGETHERNESS ~♡~ NEW ECSTATIC TRIBE PARADIGM ~♡~
🎆🎇🎆🎇 𝗡𝗘𝗪 𝗬𝗘𝗔𝗥 𝗘𝗖𝗦𝗧𝗔𝗧𝗜𝗖 𝗧𝗥𝗜𝗕𝗘 𝗥𝗘𝗧𝗥𝗘𝗔𝗧 🎆🎇🎆🎇
You are warmly invited to bring everything that makes your being erupt into rapture, and celebrate the abundant pleasures of life in Shamanic style with Sacred S_xual Tribe.
2020 is set to be monumental, with significant astrological shifts launching us into an era of the heart. The mind has had it's time. Now it's the heart's turn to lead. And the burning heart of humanity wants to lead us into the ecstasy of loving all of who we are.
The turning of the year gives us a precious Shamanic opportunity. We can review what has stood in the way of love, acknowledge its outdated usefulness, and lovingly place it on the altar for transformation. We can empower ourselves and each other through the sacred practice of conscious relating and enable all to become more of who we truly are. Anchoring our ecstatic yes to life deep within our bodies, the earth and intimate tribal relationships.
Imagine how 2020 will flow for you with *ecstatic yes* as your starting reference point.
Imagine what will start moving into your world as your conscious heart is aflame with love.
Imagine how much fun New Year will be making love to life with Sacred S_xual Tribe.
Body to body, cosy by the fire. Crisp snow sparkling outside.
A clear culture of great communication, sovereignty and self-empowerment. Safety, security and belonging found in our ability to lovingly meet our needs with pleasure, grace and gratitude. Sacred Shamanic synergy naturally unfolding as we bring all our er🌕tic and creative gifts. Imaginative Temple days stretching into sensual Temple nights. All for your pleasure.
Start the year as you mean to go on. Living life as New Paradigm Ecstatic Tribe.
​
~~~~~~~~∞ : : 💗 ENERGY EXCHANGE 💗 : : ∞~~~~~~~~~
Includes the retreat, 7 days / 6 nights accommodation in shared specious apartments and delicious veg 3 meals / day.
828€ Super Early Bird (first 10 SPOTS until 10.10) – GET IT NOW!
948€ Early Bird (from 10th Oct to end of Nov)
1068€ Regular (from 1st Dec)
For UK participants it's also possible to pay in GBP, please enquire.
~~~~~~~~~~~∞ : :💫 REGISTRATION 💫 : : ∞~~~~~~~~~
1) Fill up the Registration Form at:
www.eros-medicine.com/register
(if you are joining as a couple please register independently = one person one form)
2) Transfer a deposit of 300€ to:
Name: SACRED BLISS TEMPLE ALEKSANDRA GRZEBALSKA
IBAN: PL36249000050000460060113491
SWIFT: ALBPPLPW
Please use this transfer title:
NY Poland "your name"
The deposit is non-refundable (transferable to other person in some cases). Please read full terms and conditions before registering (available at the Registration Form page).
All your questions welcomed at: eros8medicine@gmail.com
* EXTRA OFFER: 2x VERY REDUCED in price SPOTS (only pay your accommodation and food) for part-time babysitting supporters. Preferably we know you (or with references). Preferably female. The babygirl Noa will be 11 months and she is AMAZING! Get in touch! *
~~~~~∞ : :🧚‍♂🧙‍♀🧜‍♀THE FACILITATION TEAM : : ∞~~~~~~~~
Ananda Amit Angelo + Aleksandra Grzebalska (EROS ∞ Medicine) & Ruth Biddlecombe (Divinity Relating)
Read about us at the end of this page>>>
​
~~~~~~~∞ : : 💫 SAFE & PERMITTING SPACE 💫 : : ∞~~~~~~~
The feedback, which we most often get from our participants, is that we create a safe space. Nudity, touch and s_xual engagement is optional and always at your own discernment. Being in your truth and owning your accurate needs and desires is encouraged at all times. Needs for relaxation, self-centeredness and emotional ease are addressed first before going into intimate contact with others.
The container we create encourages total self-responsibility for your emotions, and non-reactional supportive space-holding from the entire group. a space where people can dive into their process and also to transcend wounding and go into blissful collective realities where we get to experience new ways of being and relating. Healing of our broken selves might take forever and we take a loving-presence approach towards that. At the same time, there is a frequency known to all of us in our cellular memory of healed and wholesome life where each movement is coming from mystery and is offered as a prayer. We would like to invite you to this space where we tap into sacredness of human existence.
​
​
~~~~~~~~~~🧞‍♀ ∞ : : WHAT PEOPLE SAY : : ∞ 🧞‍♀~~~~~~~~
"I'm vibrating, highest, purest energy. I will use this condition to let go of old patterns. I met a few ugly shadow faces thank you!!! The whole event was so wisely and beautifully arranged, I'm grateful."
~Susan
"The temple nights were such a source of power and love. Aleksandra and Ananda providing a safe space for everybody. Everything is allowed, nothing has to be. A great combination of meditation, dance, sensuality and connecting with people on so many levels."
~ Sonja
"You were offering the invitation to come into deeper states of authenticity within our own spirituality, sensuality and s_xuality. This space was created with an invitation for everybody to raise their frequency, raise up their energy and become more into connection to divinity. The purity of that intention was carried through immensely into my body, into my heart and into my life".
~ Freya
"I'm deeply touched by the created energy of all the temple sisters and brothers. There have been so many authentic moments of understanding, trusting, being held…. Thanks so much."
~Mark
"I feel very much transformed and attribute most of this to my change of behaviour due to your Temples. You guys are awesome! I feel very close and very connected to so many women right now. I can barely express how I feel right now. Purr purr!"
~ Jens
"I've made my first beautiful experience with free love and open relationships. It was with great feeling of thankfulness, joy, pleasure, peace and I felt myself so beautiful and connected to human beings. …"
~ Caroline
"Vast space. Someone playing the guitar and singing, two people kissing soft and gentle. A group of three or five or humans cuddling and enjoying each other. Emotional release, lots of shaking. Someone dancing the dance of life itself. Sharing visions and prayers. The taste of Cacao on the tongue, feeling its fire running through the body. Everything is welcomed, all is perfect, nothing has to happen. The space wonderful Aleksandra and Ananda are holding is very special in its sweetness, playfulness and innocent wildness. They create a safe container for the medicine and the mystery to unfold. Experiencing more and more love and EROS to live a new culture into its existence. Thank you for all the bliss and growth and celebration!"
~ Joshua
​
~~~~~~~~~~~~∞ : : 🌬🏔 VENUE 🌬🏔: : ∞~~~~~~~~~~~~
https://biorezydencja.pl/en/
South West Poland (3h from Berlin): BioRezydencja (Bio-Residency) is a gorgeous ecological mountain house located at the outskirts of a picturesque Polish mountain town in Izery Mountains in the south west Poland. It is 2h away by car from Wrocław, Prague or Drezno and 3h from Berlin.
This area is fabulous for clean air, healing spring waters and beautiful recreational sites. Food served is mostly organic or bought directly from local farmers. Accommodation is offered in beautiful and specious 4-8 people apartments.
~~~~~∞ : :🧚‍♂🧙‍♀🧜‍♀THE FACILITATION TEAM BIOs : : ∞~~~~~~
ANANDA AMIT ANGELO (EROS ∞ Medicine): (Israel) – known by some as 'the most loving man', a father of three amazing children, co-founder of EROS ∞ Medicine. He tells about himself:
"I lived my passion of dance – creating, performing and teaching – for 20 years. I pray my heart on the strings of guitar and the beat of djembe. The last 15 years my interest is spirituality and consciousness. the last five years I have mostly focused in Tantra and Sacred Se✖uality.
I am inviting and supporting my brothers and sisters to play freely and walk this earth shining their pleasure and light with no guilt or shame. I am here to create with you a new culture of relating in the religion of love ♥ "
ALEKSANDRA GRZEBALSKA (EROS ∞ Medicine): (Poland) – a wild creative exploreress who prays in dance and love-making, visionary, polyamory activist, event-producer, ISTA graduate and organiser, ex-space-holder at Valle de Sensaciones Eros Lab and Summer of Eros, and co-founder of EROS Medicine. After more than a decade of self-discovery and many adventures re-imagining herself and finding community, freedom, love and empowerment she now crafts herself as an ecstatic facilitator. With MSc in Social & Cultural Psychology and background in conflict mediation, she is passionate about creating new social realities which permit humans to express the whole spectrum of their beings and tap to their highest potential, and shadow alike. Dedicating her life to healing and transitioning towards the Next Culture and heavenly existence on Earth.
RUTH BIDDLECOMBE (Divinity Relating): (UK) S_xual Shamanic Priestess. Compassionate witness. Lover of humanity.
"I consider myself a Warrior of the Heart. I stand for love's deepest truths. I stand for the innocence within human s_xuality. I believe everybody's needs are sacred.
I believe everyone can find safety, sovereignty and pleasure within intimacy. Experiences of ecstatic synergy occur within human relationships when we move into alignment with each individual's expression of their unique being. Honouring everyone's needs, feelings, boundaries and requests as they are sensed and experienced through the body.
It is my mission to bring back each individual's sense of feeling worthy, enough, seen, embraced and celebrated. Spirit moves within each of us and is leading us home to accepting the whole of who we are through the sacred s_xual path of conscious loving. Lets reclaim our power to love freely. Dissolve duality. Express unity through embracing diversity. And empower the next generation to lead from their soul's passion blazing through love."
Details
Start:

December 27, 2019

End:

January 2, 2020

Cost:

€848 – €1068

Event Categories:

Event Tags:

Website:
Organizer
Phone

0048508106834

Email

eros8medicine@gmail.com
Venue
BioRezydencja

Główna 12




Swieradow-Zdroj

,

59-850

Poland

+ Google Map