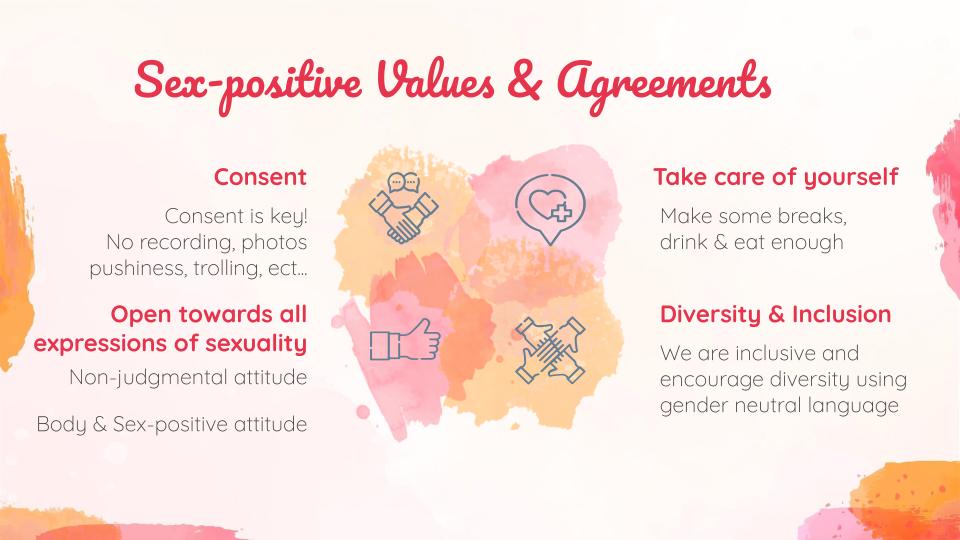 Consent
– Set and Respect Boundaries
Confidentiality
– No Photos or Recordings
– Don't talk about who was here
Care
– be nice to others and yourself
Please put on your camera
( you can be more then one in front of the screen)
Use Pronouns and gender neutral language,
Be inclusive, no racism, no sexism, no trans- or homophobia, no body shaming, no kink-shaming, or any kind of other discrimination.
Use non-violent communication
Strickt no Photo / Video Policy
No trolling
Every body equal, no special treatment for facilitator, leader etc.  
By these agreements we try to create a SafeR Space – This is not a Safe Space by default!
We can't control if people are respecting all the rules, all the time. We count on you, the community, to contribute by being supportive and accountable.
If something disturbing occurs or you feel unsafe at any point, don't hesitate to contact one of the facilitators (with a star* in font of their name)
Dress up

Share time & space
Embrace the Chaos
Schedule -What will happen when?
Zoom in at 19h, we will create a safer spaces by agreeing to these some rules.


Around 19:10 We will start warming up with connection games – a Speed Dating in groups of 5-10 people sharing about light accessible topics.


You can join at any time between 19-21:30 but please read our Code of Conduct beforehand if you missed the Intro. At every time you can opt out on a activity and stay in the main-room and chit chat with others. If you have some access needs let us know in advance or at the beginning of the event and we can see what we can do. (spositivecom@gmail.com)


At 20:00 we will have a flow performance by Anja Lotta, yeah!

After a Break at 20:15 HP Loveshaft hosts an interactive drag workshop with makeup and movement Optional: if you prefer to talk with others you can already go to in the munch rooms
– Bring something to paint your face with, as well as an outfit that screams with gender splendor –
At 20:00

we will have a flow performance by Anja Lotta, yeah!,

And then let's Party and cruise from 21:00-22:00 in different rooms


This time with the Book Club, Rooms for different cities, LGBTQIA+, Discussion, Playspace and a space for Performance


The event is free but we inviting donating to our performer and workshop facilitator via PayPal to www.paypal.me/Spositivecom
Your Sex-Positive Community Europe