"Kinktastisch" – Free your Fetish! ;)
February 15, 2020 @ 22:00

-

February 16, 2020 @ 06:00

UTC+1

€23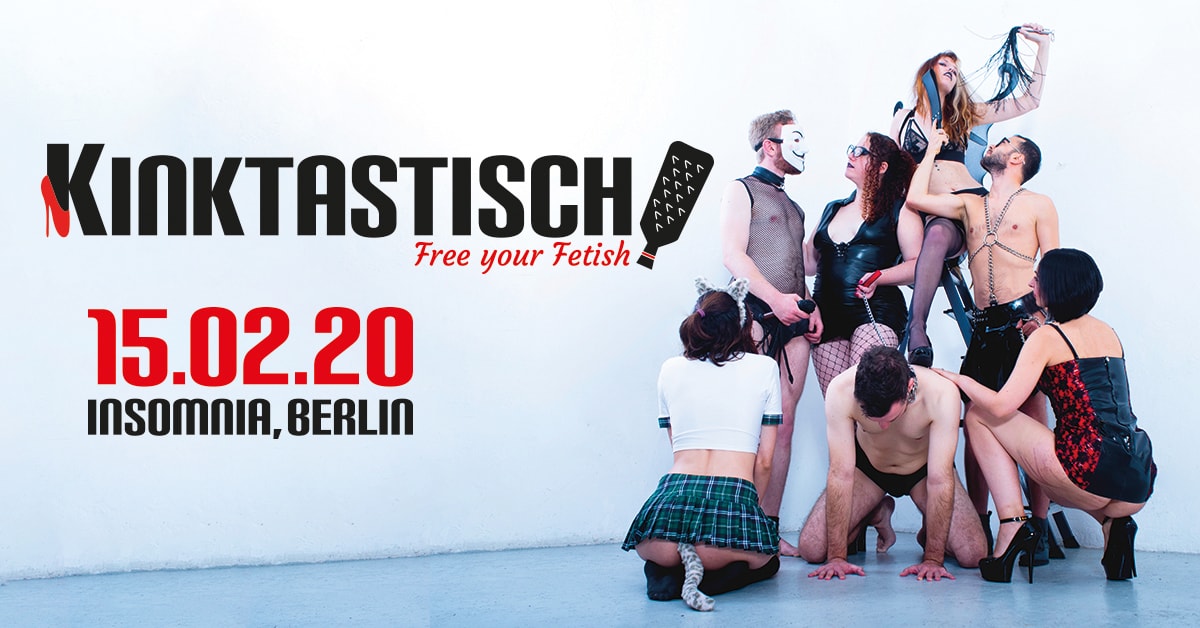 ### "Kinktastisch" invites you to set your fetishes free!
Just come and be your kinky self!
All fetishes, all genders, non genders and all orientations are welcome!
Feel free to explore the different areas of the club and interact with other kinksters!
On the Dance floor, at the chill indoor smoking area, in our sensual couples area, inside the Jacuzzi or down at our equipped bdsm dungeon!
### **** [GET YOUR PRE SALE TICKETS HERE ;)][https://kinkify.me/product/kinktastisch-15th-february-2020-ticket/#] ***
### Starting at midnight & throughout the night on the main dance floor:
A very special performance by: [Crystal O!][https://www.facebook.com/crystal.o.vienna/]
A drag queen, a Dj and an artist, born in the nightlife scene of New York City, Trained in the darkest corners of the Viennese underground techno scene!
With her gender bending performance and spectacle of high fashion, Expect the unexpected!
*The ["Dark Ritual"][https://www.facebook.com/marco.hoppner.92]* by the Boneman and Lucia, will tease and push the limits of pain of pleasure… dare to watch?
after the show they would also have their own play corner where you can try out some needleplay, fireplay, candleplay & spanking and feel if for yourself 🙂
**Plus ++**
* Our wonderful photographer [@wonderland.tiff][https://www.instagram.com/wonderland.tiff/] will make sure you will have something to remember this night by, he will only take a photo of you after he confirmed it with you.
* Our unicorns (look for the LED lights on their head) will walk around and make sure everyone is feeling good and safe, they are there for you, so feel free to talk to them about anything.
* Explore and Try some pain – ask our Dungeon Unicorn 🙂
**The people who will keep you dancing all night**
[Dr Double U][https://www.facebook.com/DrDoubleU1/] [(kitkat Club, Ava Berlin)][https://soundcloud.com/drdouble-u/dr-double-u-closing-insomnia-berlin-190519]
[DJ Scary][https://www.facebook.com/DeejayScary][(Insomnia, KitKat Club, BugMugge)][https://soundcloud.com/denny-v-bugmann]
#### Chilled music at the play area by:
[FOR_M][http://formtforen.me/]
[nhoma][https://www.facebook.com/nhoma.av]
frangelico
karen eliot
### "Kinktastisch" is a safe Fetish and sex positive party, where consent is key!
To make sure of that, please read and follow our rules carefully:
* No means No.
* Want to talk, dance or play with someone? Ask them politely if they are interested and respect their answer.
* Give people their space when they are playing or being intimate with each other, want to join? Ask politely for consent and respect their answer.
* No phones allowed! leave them in the wardrobe.
* No entry in Jeans or street wear, we have a dress code to keep the kinky atmosphere.
* Pushing boundaries will not be tolerated, ask once, a no is a no.
* Sexual harassment will not be tolerated.
* Verbal harassment will not be tolerated.
* No means No.
~~~~~~~~~~~~~~~~~~~~~~~~~~~~~~~~~~~~~~~~~~~~~~~~~~~
*Recommended Dress code:* Latex, Vinyl, PVC, kinky Uniforms, kinky costumes, Cyber Erotic & Sci-Fi, Little, Kinky Drag, sexy Lingirie, cross dress, body paint, Cabaret, Fetish Goth, Medical, animals, Burlesque, Fetish Formal, puppy, pony, Armour, Cosplay, super heroes…
*The following is NOT a fetish outfit;*
Plain jeans, Plain cargo pants or shorts, Plain underwear / plain boxers, Plain t-shirts (this includes black / skull / flame / band t-shirts), work suits, plain naked.
**Got a question? Feel free to ask :)**
~~~~~~~~~~~~~~~~~~~~~~~~~~~~~~~~~~~~~~~~~~~~~~~~~~~~
#### Tips for you to enjoy our party:
* Voyeurism is a Kink, if you are watching someone play and/or masturbating to somebody else scene and they are aware of your presence, you're too close. Ask.
* Nobody wants your unsolicited advice, if you would like to give advice, ask.
* My kink is not your kink, and that's okay! Don't impose your kink on others, if you like something that's okay, ask, but don't impose.
* Your kink is not my kink, and that's okay. Don't pull faces or show visible signs you are uncomfortable with somebody else's play.
* Respect each other's boundaries, don't impose yourself on others, and respect personal space.
* Have fun, the rules are there to allow people to act freely, behave yourself, be nice to others, and be nice to yourself. Don't forget we're here to help.
* If for some reason you are not feeling comfortable or safe, please notify immediately one the Unicorns, the host of the Party: Hilly, or one of the security people. Any violation of the rules will result in being ejected without reimbursement.
+++Management, promoters and their representatives have the right to refuse admission without giving reason.+++
Details
Start:

February 15, 2020 @ 22:00

UTC+1

End:

February 16, 2020 @ 06:00

UTC+1

Cost:

€23

Event Categories:

Event Tags:

Website:
Organizer
Email:

Frauleader@gmail.com