Sex-positivity & Sustainability Incubator
October 1, 2020 @ 17:30

-

October 3, 2020 @ 17:30

UTC+1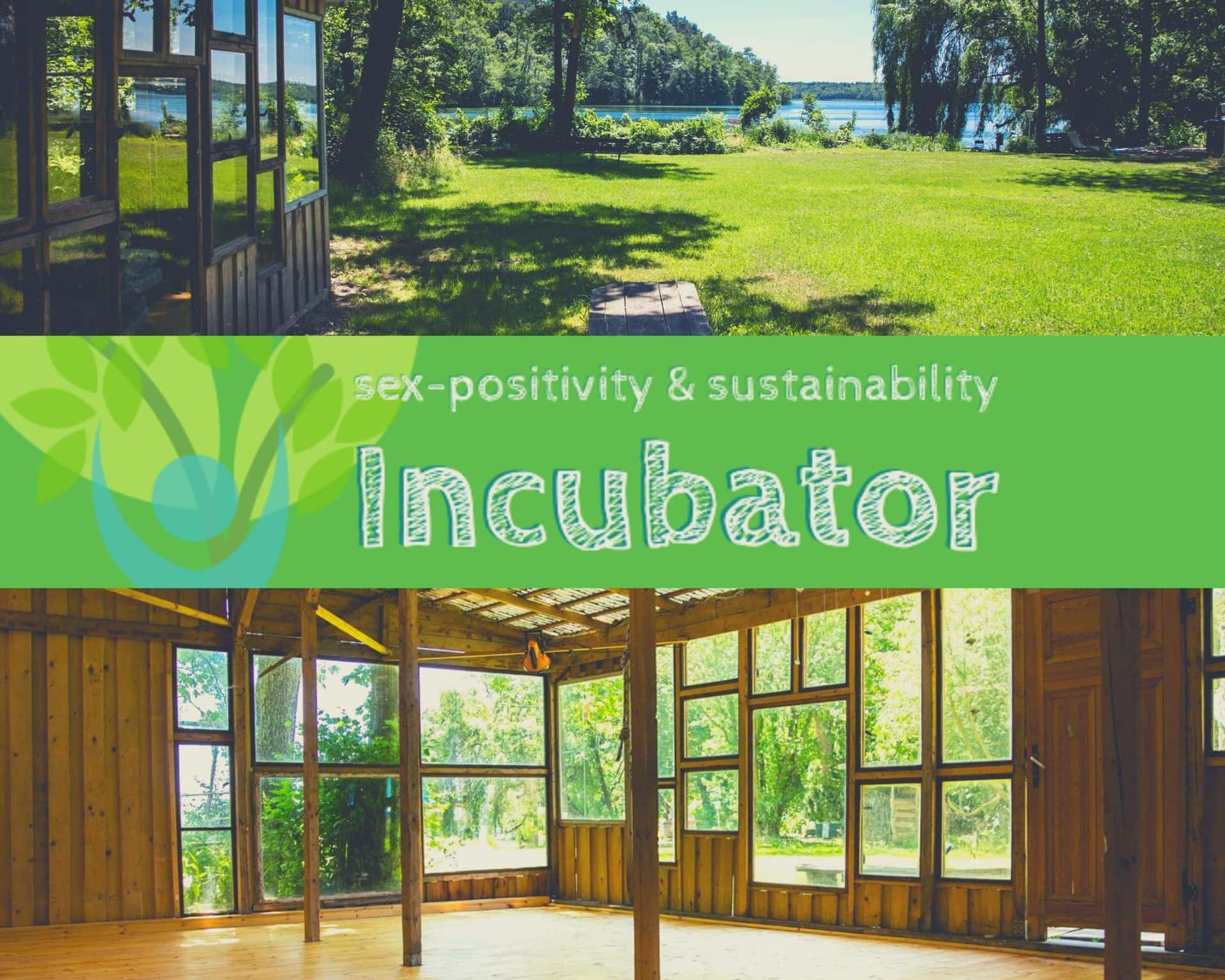 ✨🌱The Sex-positive & Sustainability Incubator 🌱✨ was born out of many questions, but the loudest being: How can we become both, more sustainable as well more sex-positive? 
Both the sex-positive and the sustainability movements are set on changing the world, aiming for a better future for all. How can community and connection be nurtured, to create networks and strengthen our movements? How can we support the change from a consumption-oriented system to a society thriving on human values?
The Incubator gives us the time and the space to go deep into those ideas, to reflect, and learn, to explore different mindsets and solutions. One weekend, filled with activists, free thinkers, artists, facilitators and rebels with a cause, set in the beautiful Spitzmühle, surrounded by nature, indulging in all organic, regional, vegan food. Let us co-create a space to freely exchange our knowledge, coming from different realms, sharing knowledge on many levels – in workshops, lectures, discussions, as well as through art and touch.  
At night, we will soften the conference setting through connection games and playful workshops, and later opening different spaces – from sex-positive playgrounds to non-sexual cuddle spaces, and of course the possibility to go into the Sauna and the Lake. On Saturday evening and Sunday, we will celebrate life and its expression in art within Janina Vivianne's infamous Parallel Universe party. Be prepared to experience an immersive adult playground, with performance, bodypaint, excellent music delivered by beloved DJs & DJanes, spiced up with sex-positive workshops and several sensual spaces with different levels of intimacy. On Sunday we will have a long brunch and several activities like a nature reconnecting ritual, an art workshop, a  sensual day-temple and an ecstatic dance set.
Are you hearing the call?
Save the Date !! The Easter weekend of the 10 & 11 April 2020!!
This event is made by the Sex-positiv Association and is fully non-profit & gemeinnützig.
 Schedule
Friday:
17:00 Soft Arrival
18:00 Opening Round / Intro Round
18:45 Defining topics for the Unconference (https://en.wikipedia.org/wiki/Unconference)
20:00 Dinner
21:00 Connection Games
22:00 Different Spaces ( Chill/ Network / Sauna / Play Space)
Saturday:
8-9:30 Breakfast
10:00 Coming together 
Introduction sustainability – Martin 
Intro sex-positivity – Jana & Janina 
11-13 Unconference SLOT1  
13 – 14 Lunch
14 – 15 Talk 2 / Keynote Speaker ( announced soon) 
15- 17 Unconference SLOT2
17-18 Unconference WRAP UP
18-19 Dinner S+ 
Saturday night Parallel Universe Party  with more guests coming:
19:00- 21:30 Arrival Guests
20:00 Life Music // Arrival // Food – CM ( Community room )
20:00- 22:00 Playfight – BH (Bootshaus)
OPENING OF THE PU // Performance 
22:30  Silent Sexual Play Space – BH
22:30 Dj Set s // Sauna // Food  – CM
Sunday:
9:30 Yoga Bootshaus
9:00 – 12 Brunch
10:00 Nature reconnecting Ritual
10:00 Art workshop – ST
12-14 Networking or content creation – CM
13-16h Sensual temple – BH
14-16 Ecstatic dance – CM
16:30 Closing circle
17:00 END
**Entry**
Only Incubator Fr- Sa 180 // Bio / Regional Food & Coffee/Tea // Includes one night in a Doubleroom 
->Full Weekend  240 //// Bio / Regional Food & Coffee/Tea 2 nights Doubleroom ( Upgrade on Singleroom possible)
->If you are a full-time activist and have no income at the moment you can write a motivation letter and get a reduced ticket! Write us  join@sex-positive.com
->Parallel Universe party only 100 euro (sleeping in a  Mattress camp)
Wanna be part of it ? Apply here: https://tinyurl.com/wjfqzdj
**Wanna stay up to date**
Like the S+ Community Europe Group ♥
**Who are we?**
The "Sex-positive Community Europe" is a growing community established as a not-for-profit association based in Vienna with the goal to build a network of engaged Facilitators & Activists to work together on shared goals and have a voice. Among them: to provide interested individuals in Europe with an accessible portal to information about sex-positivity; safer sex; and an overview of relevant events. We are moderating the Facebook group S+ community Europe and organizing network events in Europe. We try to be a voice for the Sex-positive community.